European Semester
The European Semester is the main tool at European level to monitor national progress on economic and fiscal policies. Born as a macro economic tool within the Europe 2020 strategy, it has become also the tool through which the Commission also makes recommendations for social policy reforms at national level. It is part of the European Union's economic governance framework which aims to detect, prevent and correct problematic economic trends such as excessive government deficits or public debt levels. Its focus is on the 6-month period from the beginning of each year, hence its named the 'semester'.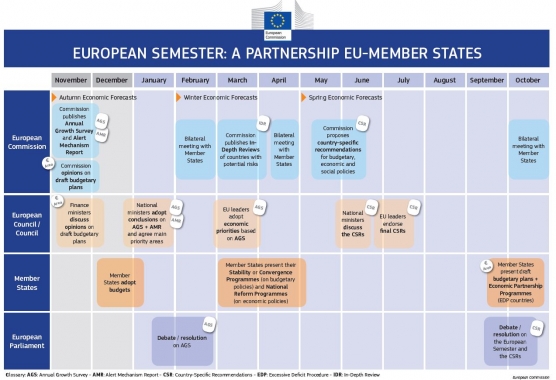 Graphic by the European Commission
During the European Semester Member States are supposed to align their budgetary and economic policies with the objectives and rules agreed at the EU level. The European Semester starts with the publication of the Annual Growth Survey (AGS). The AGS sets out the broader EU objectives for the year to come, with a focus on the economy. Members States produce National Reform Programmes (NRPs) addressing how they implement reform, that are then analysed by the European Commission and the European Council. The European Council replies to the Member States with Country Specific Recommendations (CSRs) as an assessment of their efforts to achieve the EU objectives addressed to their countries.
The Europe 2020 Strategy
The Europe 2020 strategy, which was initiated on 3 March 2010, aims at creating a smart, sustainable and inclusive economy in the European Union and defines 5 measurable 'headline' targets for the whole EU to be achieved by the year 2020: employment rate at 75%, reduction of poverty with 25%, school drop-out rates below 10%, annual investment in research and development of minimum 3% of the GDP and the 'green 20%-20%-20%' target rates. Member States are expected to 'translate' these EU headline targets into national targets and report annually to the European Commission on the progress achieved and on the challenges encountered through the European Semester mechanism.
For more information, see here.